Hanoi Old Quarter On Weekend
On weekends, the walking streets become tourist attractions for not only local people but also foreign tourists. On Saturday night, about 7:30 pm, the walking streets are totally changed.
Relate: the hanoi opera house  stands as the architectural, cultural and political symbol of the 1000 year old Capital
Rows of motorbikes, taxi and dust from vehicles or bustle intersections are replaced with families who accompany with their children, groups of young people, tourists to walk, talk and enjoy food.
Relate: Where go to in Vietnam. So see more: places to visit in vietnam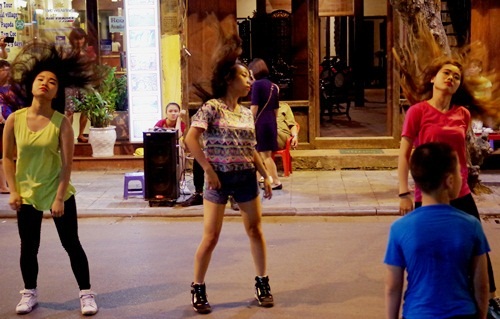 Hanoi Old Quarter changes on weekend nights with modern dance group at the Ancient House 87 Ma May.
Along Ma May street, just in the part of the ancient house, a lot of people are involved in the modern dance group of Hanoi young dancers. They dance vibrantly as styles of Europe, American and Korean but some gently with performances on Vietnamese music.
Not far from there, on the intersection between Luong Ngoc Quyen street and Ma May street is the folk music performances. Despite small stage, the locals and tourists pay much attention.
Traditional songs and Vietnamese opera are performed there to reproduce traditional Vietnamese beliefs. Besides the elderly and middle- aged people, it is easy to see young people and foreign tourists who are interested in this kind of music.
Relate: If you wanna travel to Vetnam but don't know anythings about Vietnam travel, you can look at in this topic to see things to do in vietnam. It's really useful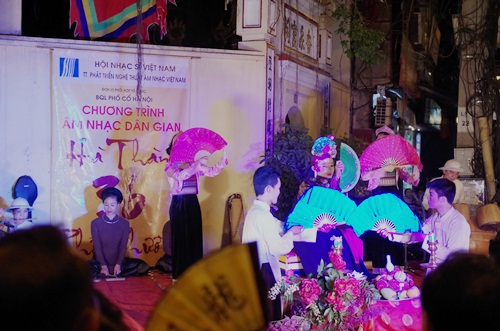 A special performance took place at the intersection of Luong Ngoc Quyen and Ma May.
On weekends, the streets seem larger and enough space for children ride bicycles, mini cyclo, in- line skating, fishing at the artificial lake, etc. Not only physical games, but there are also magic performances, dances, beatbox, etc.
To foreign backpackers, the ancient town and especially the walking streets become an ideal gathering place. They come in different appearances, some wear seriously, some informally, some in hurry, some walk leisurely, some feel excited, some feel tired, etc. Hanoi seduces them to go into the crowd and join the same pace with the night streets.
Apart from eating, drinking, playing, shopping and discovering cultures and landscapes, foreign tourists are also street artists right the Old Quarter. On follow picture is two foreign tourists who are playing accordion, harmonica and ukulele which make vendors surrounding feel curious and they stop their work to listen.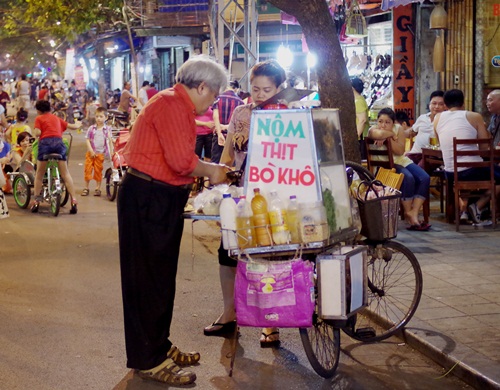 The dried beef meat cart on the Hanoi Old Quarter
Share This Post: